Posted By RichC on February 22, 2011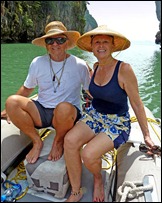 I was sad and angry to hear that the sailors aboard the s/v Quest off the coast of Oman in the Arabian Sea were killed today. Americans Scott and Jean Adam, along with sailing friends Phyllis Macay and Bob Riggle, were taken hostage by Somali pirates last week and as their captors headed toward Somali, something caused the pirates to begin shooting … at 1 AM this morning.
One would think that centuries after pirates plundered vessels on the high-seas that we would have learned how to 'exterminate' their ilk … let's get a backbone and eliminate the problem. Something needs to be done to deter the practice of taking yachts, ships, cargo and crews. How about a little less political correctness when in comes to dealing with thugs, theives and killers – maybe the 2009 Russian Pirate Hunting Cruise hoax should actaully be scheduled? Yes I'm angry and frustrated.
…  Four American hostages on board a yacht hijacked by pirates last week were killed by their captors Tuesday, U.S. Central Command said in a statement.

The vessel, named the Quest, was being shadowed by the military after being captured by pirates off the coast of Oman on Friday. Officials had said earlier Tuesday it was less than two days from the Somali coast.

… The forces responded after a rocket-propelled grenade was fired at a U.S. Navy ship about 600 yards away — and missed — and the sound of gunfire could be heard on board the Quest, U.S. Navy Adm. Mark Fox told reporters.

"Despite immediate steps to provide life-saving care, all four hostages ultimately died of their wounds," U.S. Central Command said.