Posted By RichC on March 7, 2011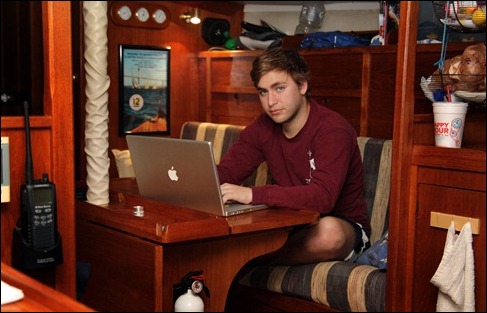 So far so good with enjoying our time together on Encore. Taylor has taken to the 'boat-life' although commented that the after hours activities near the marina are non-existent (they are … the streets roll up by 10PM). Of course that didn't matter tonight since the fresh air and sun has zapped the energy out of him (us).
The morning started with an early visit from three of Taylors friends (Kara, Amber and Katherine) from Miami who were driving down to spend spring break, in of all places, Delray Beach. They had been on the road from Cincinnati thru the night and so we had them aboard for donuts and orange juice … and of course the 10 second tour of the boat – they were very polite and complementary, although suspect our nautical accommodations looked pretty cramped for non-sailors.
The girls were back on the road by 11AM and although the wind was a bit strong and ocean a bit rough, we decided to give it a try. Unfortunately that wasn't the best idea so instead opted to stay in the 'narrows' of the intercoastal waterway, not necessarily pleasurable either. For those unfamiliar with traveling the intercoastal by sailboat in many areas, its not relaxing due to the shallow depths, bridges, currents and limited channel width to safe keep our 5 foot keel out of the mud. Most if not all using the intercoastal have personal experience with calling a towboat.
We did spot a sea turtle near one of the channel markers (I thought it was a rock – which was good for a laugh) and also a manatee … sorry for the lousy photo below.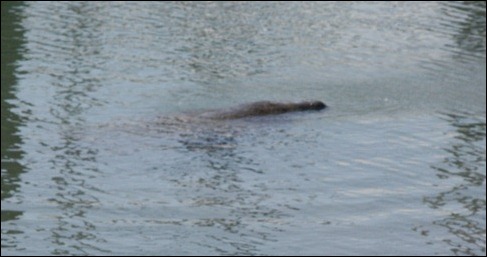 We topped off the diesel tank at the fuel dock which hasn't gouged as much as they could have on fuel prices – filled with diesel at $3.92 minus my "annual discount of 25 cents/gallon" bringing my price to $3.57. Unfortunately I was unable to get the cap unscrewed from the holding tank when we were at the pump-out dock … yet another repair project to add to my growing list of improvements.
Although we floated the Zodiac, the port side chamber will not stay inflated. Taylor can paddle around, but I'm not comfortable with putting the new Suzuki outboard on it. I'm not in a rush to replace it, but it will be on my 'want' list when boat show specials are being offered. Current criteria: lightweight, RIB aluminum(??) bottom and larger Hypalon tubes. I also appreciated receiving an email with advice from my world cruiser friends Mark and Judy Handley, who have just arrived in Granada after a 5806 nautical mile passage taking 44 days from South Africa – that's a long passage.
We bought a 9 ½ foot fiberglass bottom RIB made by AB (a French company I think). It is heavy! Judy and I find it very difficult to pull it up on a beach – almost impossible with the engine on it. We got wheels for it but ended up taking them off and selling them. They were too small a diameter so they just dug into the sand and made it harder to pull. If I were doing it again I would get the same size (good for hauling jerry cans of fuel and groceries and 4 or more people) RIB but with an aluminum bottom for light weight. I would get large diameter wheels with wide inflatable tires. I would go for large (17 inch or bigger) tubes of Hypalon. And I would again get a Yamaha engine. Yamaha has more dealers and parts and repair shops around the world than anything we have seen. Our engine is 15-horse. It is also heavy! But it will plane the dinghy with 4 people in it (good for when you have long distances to go from anchored boat to shore) However, for 90 percent of our use we could use a much smaller outboard – say 2 to 6-horse. It will get you there with less fuel and you will be able to lift it onto the boat with one hand (we use a block and tackle).

Of course this still doesn't answer your storage need. We have davits on the back but use them only for bringing the dinghy up for the night or for short day trips in calm weather. Otherwise it's on the foredeck. Some people always keep their dinghy in davits but I have heard that they can become a hazard in high winds. But that may not be the case with rigid dinghies. We know two boats – both good and careful sailers – that have hard (fiberglass or plastic) dinghies on davits. They seem to do quite well with them. However, if you want to store it on deck a roll-up might be the best option for you. Or perhaps a rigid dinghy that can break down. One model is two halves (front and back) that bolt together in the center. When broken down they nest one inside each other. Another model looks like a banana when assembled and consists of four or five vlat pieces that when pulled together at each end make the banana shape. I don't know the name of it.

And I agree with your thoughts about having an old beat-up dinghy to discourage theft. Same goes for outboards. Some people put patches all over their new dinghy to make it look beat-up.. Others paint (intentionally poorly) their outboards. We have done neither and so far have been lucky – however the Caribbean will have us using chain to lock the outboard to the dinghy and the dinghy to the boat or to a dock when we go ashore.

Hope this helps some.
As we head to bed tonight I can say that we had another great day together … what a privilege to be able to spend a week on the boat with my son (thanks Brenda).