Posted By RichC on March 6, 2011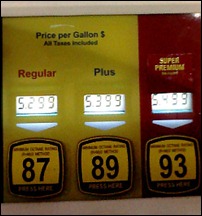 After a late night, early morning drive to pick up my son from the airport in Orlando for his Miami of Ohio spring break, we hit our 'berths' without planning an overly ambitious Sunday. One of the more interesting time-killing photos I 'tweeted' while waiting for Taylor's plane to arrive was of some fuel price gouging (at least that's what I'm assuming?) I was shocked to see regular unleaded selling for $5.299, as were others replying to my twitpic!
As for our day today, I gave Taylor the boat tour and was glad to have him so interested in learning more about something I've always been passionate about – I thinking he's a little like me about sailing too? We also had a minor crisis while just at the dock … one of the pressure water lines came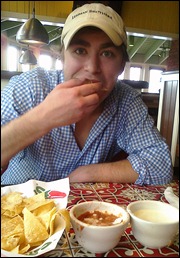 loose from the small hot water tank and began leaking/pumping my 80 gallons of fresh water into the bilge. For non-sailors, this is not a big deal but can create a mess not to mention surprise one a bit when seeing water sloshing around under the floorboards. While Taylor pumped, bailed and dabbed up the water, I snaked (a most appropriate term) into the cockpit lazerette to track down and repair the leaking water line. While there I also refastened the pressure pump as it had pulled loose from it's rubber vibration bushings.
That accomplished, we decided it was time for a good lunch … off to Chili's in Vero Beach. Mmm … got to love their chips and salsa. Both of us have the same memory of Chili's … we would have lunch there almost every Sunday after church.
On our return, it was time to pick up a few items at the Publix grocery store for Taylor and find a good quality 10W-40 oil for the new Suzuki outboard motor. We didn't get around to starting the outboard, but did top off the fuel, oil and read the manual regarding the proper break-in procedures. Maybe Monday if we don't head for an anchorage or mooring?
Another blog I frequent, Roz Savage Ocean Rower, posted an image regarding the Somalia pirate problem that I though was interesting … I think it was from Wikipedia.