Posted By RichC on March 30, 2011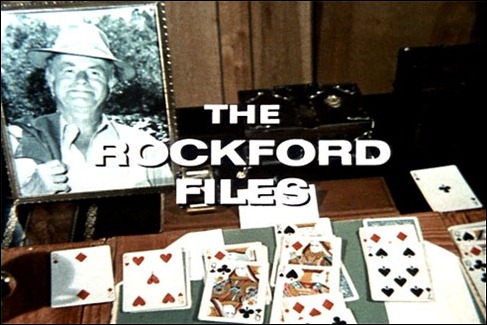 Although this will probably show my age, today I'm highlighting one of my favorite TV programs and favorite actors — James Garner in The Rockford Files (imdb). I might have commented, "who doesn't like the show," but since I live with that one person, I already know the answer.
About a year ago I added the 6 seasons to my streaming Netflix queue and because my better half refuses to watch 'old' TV programs, I haven't found the time to re-watch any of the episodes.  BUT … because our Tivo has been upchucking on NetFlix content lately, it required a rebooting. Ah … the perfect test, the pilot episode of The Rockford Files. One down and 129 shows to go!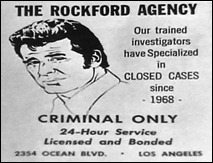 An impact of being a teenager and growing up with detective shows like the The Rockford Files, was that I use to imitate the driving style (a J-turn or a "Rockford") of James Garner (sorry Dad). I also may have picked up a few of the the more positive values that came out of the show; Garner's character demostrated humility as well as respect for others … and in my opinion absorbing some of that outweighed the negatives — those values were certainly better than the popular detective/police shows on the air today (stated like an old-fogy).
For a while, there was news that NBC was planning to do a Rockford Files remake in 2011, fortunately or unfortunately the project is currently shelved according to entertainment news, but as they say, "stay tuned."