Posted By RichC on July 15, 2011
I'm reading my email and posting on another warm night  after a day that did not include any sailing …  but sailing wasn't in the plans either. In between thunderstorms I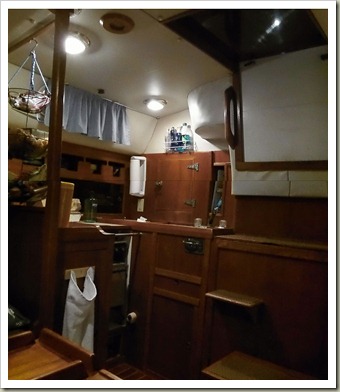 watched the full moon is beam thru the companionway hatch (note top right of photo) and ate some Chinese carry-out for dinner.
Besides spending the day working on a few projects(one would think  more would be getting done), I did get a chance to converse with a few of my live-aboard neighbors. The diver I use,  Roy Mahood, came by and did an in-water hull cleaning as well as bottom and zinc inspection – all good. I put in a couple of storm surge resistant chains so that instead of relying on the dock mounted cleats and lines, a chain around the pilings would keep the boat a bit more secure. If we were to have a high enough tide and surge to 'buck' under the dock boards and begin tearing apart the new boards and attached cleats, the lines attached to the pilings underneath would still be holding Encore between the piling in her slip … at least that is my theory?
Later in the day, I also met with a stainless steel and aluminum tubing fabricator hoping to "plan" for a dinghy davit and solar panel mount off the stern. Although our boat is somewhat self-reliant, it would be far better to have additional charging capacity in the form of additional panel and possibly even a wind generator – and arch that doubles as a dinghy lift would be a plus. I'm in no rush to make this improvement, but it would be convenient to be able to lower the dinghy and outboard motor from a set of davits rather than roll it out and inflate each time or leave it half sized and tied down on deck. We'll see where the estimate comes in … I'm already thinking it is going to be high?