Posted By RichC on September 28, 2011
So much for the carburetor tuning and electrical issues that have frustrated me lately (posted yesterday) … it wasn't the problem. Can you tell what the problem is from this photo?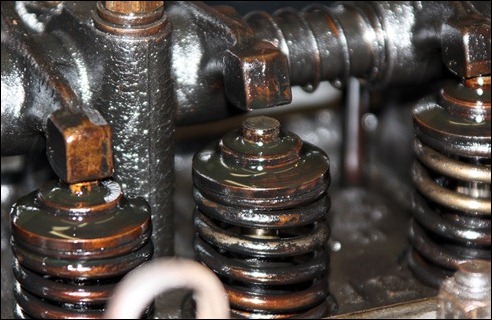 I've been struggling to figure out why the 1975 MGB would not run smoothly at idle … now I know …  the problem is the #2 cylinder's intake valve. The sticky valve didn't show up immediately after I took the engine apart and installed a new cam … or when I adjusted the rockers and tweaked them for a second time. I just so happened that the valve spring returned the valve back to a resting closed position each time I worked or looked at it. The initial compression test showed all cylinders with compression and #3 and #4 slightly higher at about 110 psi.  BUT after rechecking tonight, I noticed something odd … zero compression in the number 2 cylinder? Hmm … a stuck valve?
After popping the valve cover off I didn't immediately see the problem; the spring returned the valve  to it's closed  position again. It wasn't until I cranked the engine a couple revolutions that the intake valve on #2 opened and eased S-L-O-W-L-Y closed again. After a quick crank again, it stuck open for a few more seconds, enough for me to snap the above photo. AHHH … the culprit!
Unfortunately the MG will be sitting for a week or so before I pull the head. The  next few days are travel oriented and then we have my nephews wedding this weekend. (Congratulations Ben and Emily … a happy time)
To be continued.