Posted By RichC on February 2, 2012
Yup … FB .. that's the stock exchange symbol for Facebook; the biggest IPO of the year, or past few years. This will be the largest web-based company to have an initial public offering since GOOG went public (believe it or not, GM in 2010 was the overall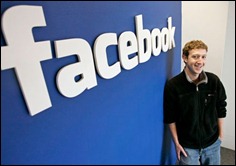 largest). It will instantly turn Mr. Zuckerberg into one of the elite of the elites when talking  business billionaires in the world.
Fortunately or unfortunately most of us won't have to spend the next few days figuring out the price FB as by the time we digest the surge, it will most likely seem way too high. Only time will tell whether the users of Facebook continue to click ads in order to make it pay off. Personally I'd be concerned that all the new millionaires working for FB will get soft.
By GEOFFREY A. FOWLER

Facebook Inc.'s impending initial public offering will likely net its 27-year-old founder Mark Zuckerberg a fortune of $28 billion.

According to IPO paperwork Facebook filed Wednesday, Mr. Zuckerberg owns 28.2% of the soon-to-be-public company, and is its single largest shareholder. If Facebook raises money at a high-end valuation of $100 billion dollars, Mr. Zuckerberg's stock would be worth $28 billion. On top of his stock, last year Mr. Zuckerberg was paid $1.49 million in salary, bonus and other compensation for his role as chief executive, according to the filing.

A net worth of $28 billion would have placed Mr. Zuckerberg at number nine in Forbes magazine's rich list last year, following tech luminaries Bill Gates and Larry Ellison.

But even as Mr. Zuckerberg vaults into the pantheon of the world's richest people, the young entrepreneur has already proven he doesn't intend to act like a typical billionaire.

Mr. Zuckerberg grew up in Dobbs Ferry, N.Y., the son of a dentist and psychiatrist. He graduated from high school at the elite Phillips Exeter Academy, where he honed his talents in science and the classics.

In the nearly eight years since Mr. Zuckerberg founded Facebook in his Harvard College dorm room, the entrepreneur has grown from a college sophomore into a leading voice for a new generation of technology entrepreneurs.

In the early years after Mr. Zuckerberg moved his start-up to Palo Alto, Calif., he was known for wearing Adidas flip-flops to business meetings and placing little priority on building out an advertising business for his growing social network. He handed out business cards reading, "I'm CEO… b—."

Today, Mr. Zuckerberg has upgraded his wardrobe to Brooks running shoes and even dons a sports coat for special meetings, like with President Barack Obama and Oprah Winfrey. And his social network has become so important to many big advertisers that they run Super Bowl ads directing customers to Facebook.

Mr. Zuckerberg has also set the tone for the lifestyles behind the latest Silicon Valley boom, eschewing the giant mansions and posh cars of the late 1990s dot-com bubble. Instead, he has lived in a modest house, and is known for his penchant for taking his dog on long walks. (He runs a Facebook page for his dog Beast, a white Hungarian Puli.) In 2011, Mr. Zuckerberg became a vegetarian.

In 2010, when the movie "The Social Network" debuted and offered a sometimes unflattering Hollywood portrayal of his behavior in Facebook's early days, Mr. Zuckerberg treated his whole company to a day at the movies to watch the film together.

Mr. Zuckerberg also didn't wait to begin establishing his reputation as a philanthropist. In 2010, amidst the fall-out from the Hollywood film, he announced the formation of a charity called "Startup: Education" and pledged $100 million to support public schools in Newark.

In December 2010, he signed a pledge—along with his former roommate and Facebook co-founder Dustin Moskovitz—to give the majority of his wealth to charity.