Posted By RichC on May 30, 2012
Living on the edge when it comes to navigating natural hazards in the breaking ocean isn't for the average kayak surfer … one mistake and not only will the sea and reef grind your plastic boat to bits … it most likely would do the same for flesh and bone.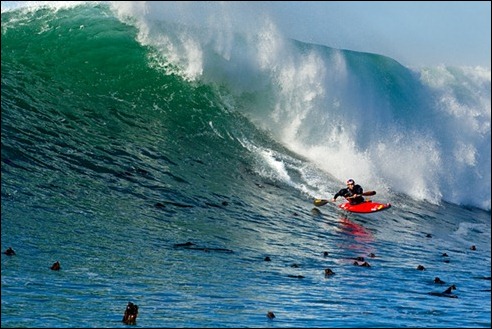 "There is something about knowing a mistake can have pretty severe consequences that makes moments like these feel extra special," says champion extreme kayaker Tao Berman, who waited four years before all the pieces fell together to kayak surf this monster wave at Nelscott Reef, located about a half mile offshore in Oregon.
Berman took on big-wave surf kayaking to keep challenging himself after setting three world records and mastering freestyle kayaking. But the kayaking legend has hung up his competition paddle: "So far retirement has been great," he says. "I've been spending time with my nine-month-old daughter and doing lots of sports."

Getting the Shot

Nelscott Reef is one of the toughest breaks that photographer Richard Hallman has ever shot, he says. It has a rough entry point leading to 15- to 20-foot waves. "The only way out to greet this beast is through the most gnarly, freezing, shark-infested beach break," he says.

Shooting from the channel between the north and south reef, Hallman was able to capture Berman kayaking the wave. "On one wave in particular, we watched for a breathless moment as Tao got caught inside a massive wave," Hallman says. The kayaker was torn from his boat, a rare occurrence for the pro. "One of the rescue teams came over and said Tao was asking for me," recalls Hallman, a former ER nurse and EMT who thought his skills might be needed to aid Berman. "When I got there, [Berman] just wanted me to document his bloody nose. He's a tough customer."

Hallman used a Canon 1D Mark IV with a 70-200mm lens and an Aquatec waterhouse.