Posted By RichC on August 4, 2012
Some of us try to maintain a positive mindset in this questionable economy and are hoping for a turn in the second half of 2012.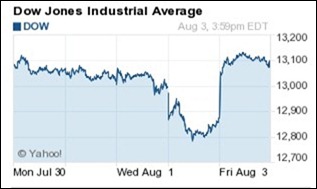 Perhaps there are a few others besides me hunting for any good news since the Dow fought off several down days to end the week back up over 13,000. With a "turn in the economy" in mind, I've been monitoring dry shipping company Genco Shipping and Trading Co. (GNK) ever since it was mentioned on CNBC this past February, but only recently have I purchased a few shares — I was rewarded with a nice move yesterday and today.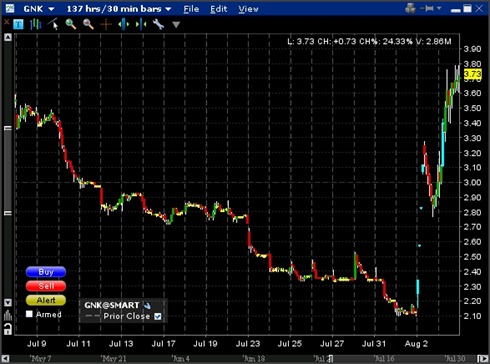 If you are still reading this, do be aware that GNK stock can move quickly on both good and bad news; we're talking in high percentage jumps both up and down. While waiting for earning at the end of July, the questionable economy ignited some selling and so I made a few purchases and continued to dollar cost averaged my position … still my stomach did tighten as it hit a low of $2.09. I'm not smart enough to know where the bottom was, but I was fortunate to have accumulated shares around $2.20 and $2.30 believing Genco's upside was far better than the downside. The earning arrived and put that quarterly fear in the past and buyer came back to the stock. Still for me, it was hard not to take short term 50+% profits on Friday afternoon, so I did lighten my holdings and felt pretty good about it. We'll see what next week brings, but I'm hoping others conclude that there is still plenty of upside for Genco. (although the strongest in this weak industry is a fairly priced Diana Shipping (DSX))