Posted By RichC on June 11, 2013
So you really would like a Audi TDI diesel? (I nod my head yes) Well it's not going to be cheap. Here are the 2014 prices for their A6 TDI, A7 TDI, and Q5 TDI as shared by Motor Authority.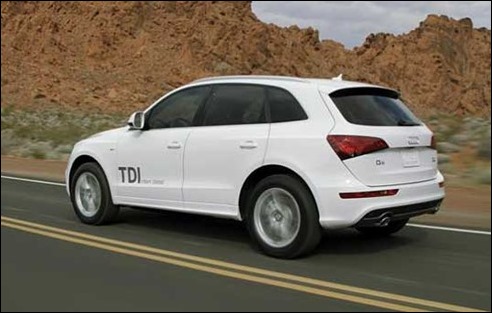 2014 Audi A6 TDI starts at $57,500 — 24 mpg city/38 mpg highway for 29 mpg combined.
2014 Audi A7 TDI starts at $66,900 – fuel economy exactly the same as the A6.
2014 Audi Q5 TDI SUV starts at $46,500 — 24 mpg city and 31 mpg highway for 27 mpg combined
All three Audi diesels come standard with quattro all-wheel drive, and will begin arriving in the U.S. in late summer 2013.

If you're looking for a smaller, more efficient Audi diesel, the A4 TDI is on the way, but it won't come until the next generation of the A4 launches sometime in the 2014 calendar year.  The 2014 Audi A8 TDI has already been priced [$83,395], with estimated fuel economy of 24/36 mpg city/highway for 28 mpg combined.