Posted By RichC on June 7, 2013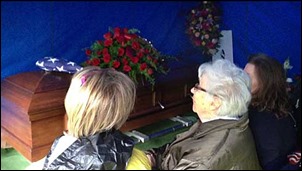 Life returning to "normal" doesn't feel right after being with family and friends for the funeral and burial of Dr. Frederick Howard, Brenda's father – I'm not sure when I will realize that he is gone.
We remembered dad's life through stories and humor this past week and as Christians, knowing he is now truly home, we are at  peace.  The time together as family gave us a reason to celebrate his life and what he meant to us, but still I can't help having a heavy heart when I think mom, Fran his wife of 64 years, going on alone  –  his family will miss him immensely.
For me, having dad recognized by "a grateful nation" for his service to country as a World War II veteran in Brockton/Portland, New York's Evergreen Cemetery was quite moving. It was a solemn moment standing under the umbrella hearing only the rain … followed by the crack of rifles and taps.
The extended family had a very positive time together, as it has been increasingly challenging to all be together for holidays or events as we had in the past. We have always been exceptionally close, but with grown children, schools and careers in distant cities, it is difficult to be all together and see each each other at the same time. Thankfully we do get together for weddings, otherwise it looks like it would only be for funerals; I'm guessing our family is not unlike many across the country who were once always together?
Dr. Frederick Howard lived an amazing life as is well documented by all who knew him … and as was told by Pastor Read, Brenda, Justin, David, Christine and Jerry at the service this past Wednesday (archiving the MP3 audio below).
| | |
| --- | --- |
| | Dr. Frederick Howard (mp3) Funeral at Bethel Baptist Church, Jamestown, NY 6/5/2013 |