Posted By RichC on August 24, 2013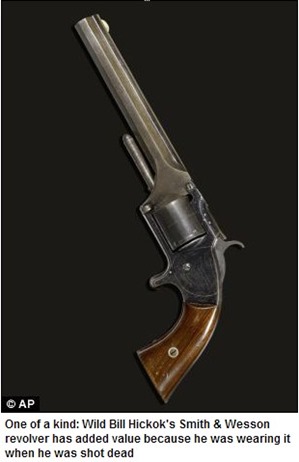 Antiques as they relate to history hold a small, but growing, interest for me. I appreciate the collector mindset when it come to things mechanical, especially when they hold a history like certain firearms …reading about this piece sparked my curiosity. The handgun which once belonged to the gunslinger Wild Bill Hickok about 150 years ago is being auctioned off this November 2013 in San Francisco. Some suggest the bidding could go as high as $500,000.  As the story goes, Hickok was killed while wearing this .32 rimfire Smith and Wesson revolver (similar ones sell for $2000) by a bullet to the back of the head fired by 'Crooked Nose' Jack McCall. According to the 1876 reporting, Hickok was playing poker in the infamous "wild west" town Deadwood, in the Dakota Territory (now South Dakota). 
As the legend goes, "Hickok had a habit of sitting with his back to a wall when playing poker, but on the day of his death, the only spare chair had its back to the door … at the time he was holding two black aces, two black eights and another unknown card, which went on to be known as the 'dead man's hand' in poker." (trivia)
As for the nickname "Wild Bill" …  there is some debate, but most history records that he gave the name to himself in 1961 after a shootout with several men including the less than reputable David C. McCanles (there was a history between the two, including McCanles calling Hickok the derogatory "Duck Bill" Hickok due to a protruding lip … hence a mustache was grown in order to cover it up – interesting!) For that killing, Hickok was brought to trial, but the court ruled "self-defense."
Hickok used his gun slinging abilities throughout his 39 years as a stagecoach driver, a lawman and a scout. Eventually he headed to the rough and wild Dakota territory in order to "find his fortune in the gold rush and also to make money from gambling." He was also said to be connected with other "wild west" notables like Buffalo Bill Cody and Calamity Jane. As testament his skills with a pistol, Hickok was said to be the best quick-draw shooter of his time.