Posted By RichC on April 11, 2014


Those who spend any time watching financial markets and attempt to analyze a mix of investments the future, understand that there are mix signals coming from economist, financial analysts and those hired to manage investments (or pick for TV). I follow both the bullish and the bearish thinkers, yet end up being more conflicted about what to do in our limp economy.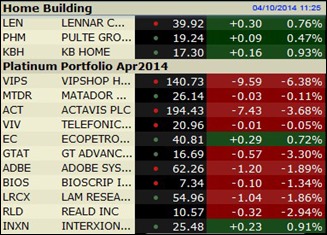 There are convincing opinions for both points of view and thankfully "so far" those in charge have been able to prevent another catastrophe … although admittedly I have a slight bias toward a downward correction or worse – call me cautious.
CNBC has been hosting ten money managers this week and these respected advisors have agreed to give their best stock ideas in what the Squawk Box morning program is calling their "Platinum Portfolio." There haven't been any surprises in their picks this week, but I jotted down a few ticker symbols to track anyway.  These top managers were all bulls and "in the market" last year so they racked up some pretty strong gains, unlike those who were cautious or bearish. To their credit, a lackluster economy just barely chugging along has been a positive for stock pickers since the Federal Reserve remains accommodative and inflation controlled without concern the economy is overheating. Those seeking employment or retirees seeing a conservative return on their savings on the other hand are still struggling.
Speaking of bullish guests on CNBC, one would be hard pressed to find one as optimistic as on Thursday morning (04/10/2014) – videos below.
 Bill Miller (formerly of Legg Mason Capital Management)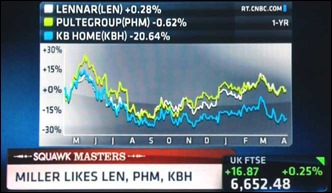 was even more of an positive than those picking stocks earlier in the week. He suggested  that this cyclical bull market "could" even the beginning of a secular bull market (forces in place culd last for many years). His conclusion was that "we may be in the best bull market of our lifetime" and suggested that housing stocks are poised to rally since they have been laggards (video below). Like airline stocks, I find home builders a tough group to buy and hold. See LEN ($39.86),  PHM ($19.18) and KBH ($17.19) … all trading up on 4/10/2014.
As I said, I'm conflicted as to the direction of our economy and our country. There is instability not only here, but in the world. Our leaders and those of us electing them show little desire to deal with current problems, let alone our nation's rapidly growing debt, underfunded entitlements and move in the direction of socialism which is not a prescription for growth. As government grows in size and control, it oppresses both people and business … and in turn grows a more dependent citizenry.