Posted By RichC on January 20, 2015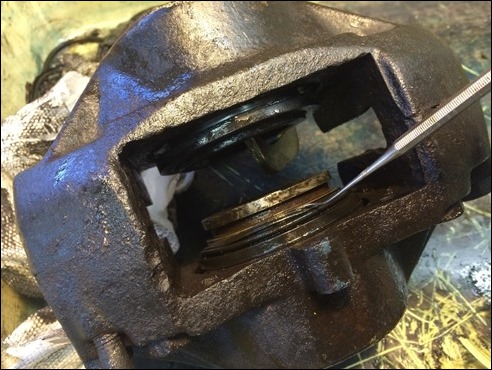 Once I priced a rebuilt brake caliper the 1982 Mercedes Benz 300D Turbodiesel, I knew I would be rebuilding the the caliper this past weekend, especially since the seal kit was only $9.00 on eBay. The project was pretty straight forward, but removing the old "baked" on seals was not as easy at one might have thought.
No doubt I've been living on borrowed time considering just how much brake fluid was leaking after looking at the tire and from the feel of my spongy soft brake pedal … although I justified that a quick pump of the pedal would get the clamping pressure up enough to stop the car. The only time I started to worry was when the "low fluid" light would pop on the dash lights … thankfully I had an extra bottle in the trunk.
Nevertheless … it was past time to correct my unwise behavior. After removing the caliper from the car … and cleaning up the grungy mess … I put a couple of my late father-in-law's dental instruments to use. My daughter thought her grandfather would be "mortified" when she asked what I was doing this weekend, but I think he would have been pleased to see them re-purposed.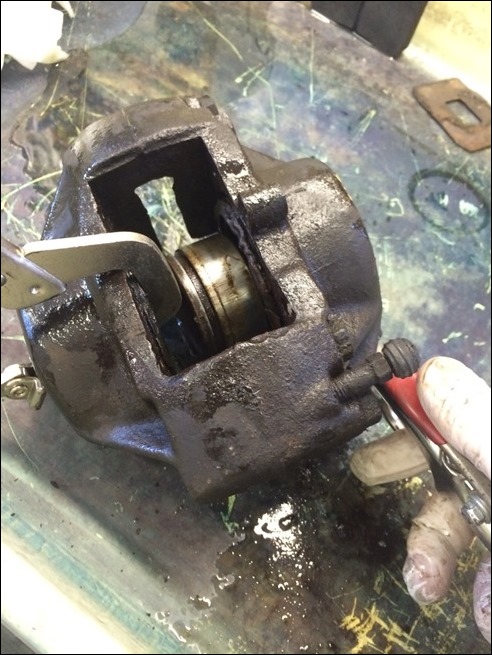 I used a bit of compress air to loosen each piston … hold the opposing one in place or use a spacer between them … when slowly pressuring the caliper (above or all photos here). Once removed, inspect the pistons and the cylinders for corrosion or any pitting. I cleaned up the old pistons with a bit of 3M abrasive pad and it looked as good as new when I was finished.
Reassembly was also a bit challenging. The inside seals fit perfectly after cleaning out the groove, but the Teflon dust seal isn't all that flexible and just didn't fit the way I think it should. With a little refitting and pre-lubrication with brake fluid, the cylinders ease back in place. I tested the movement with compressed air before refitting to the car and filling with brake fluid to be sure all was working as it should.
After reassembly and bleeding with my Pela 6000 vacuum, the brakes were solid and stops were as straight as could be. No leaking and no fading … "I love it when a plan comes together" as Hannibal Smith (George Peppard's character) would have said … although to understand that line you would have to remember Stephen J. Cannell's The A-Team in the 1980s.