Posted By RichC on September 8, 2015
For those owning Twitter stock (TWTR) – trading Tuesday afternoon at $27.22 (down 3.3%), it has been a year without all that much good news to cheer about, followed by a declining stock price since May 2015.
Today another executive, the former CFO Mike Gupta (overseeing the company's venture capital arm) jumped ship. One wonders what  the day to day mood of employees is like … especially for those holding stock options and doing their jobs (or still acting like they are living in a frat house — mentioned by a few analysts on the outside). More telling would be what management meetings must be like trying to figure out how to grow this "once a darling" social networking company? Oh to be a fly on the wall. It seems like investors are pinning way too much on finding a new captain to steer this ship … hopefully "steer" although it might be more like his/her ability to first right the ship?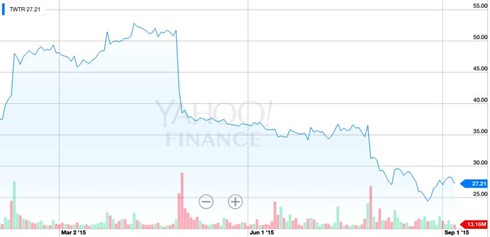 The gloomy picture aside, there are reasons to be optimistic. Appointing any experienced CEO will definitely give the company a boost. Someone with executive level experience and proven leadership qualities (even without the social networking and tech credentials) will give investor's something to pin their hopes on. Longer term, the most substantial reasons for optimism is the expansion of the Twitter self-service ad platform expanding in new countries. Currently more than two dozen countries offer Twitter-promoted tweets and videos outside Twitter. According to research analysts, "the latter feature will be implemented via the Twitter Audience Platform (formerly known as Twitter Publisher Network), and will generate the potential for the company to leverage the scale of its MoPub network."
Ameet Randive, senior director of revenue products at Twitter, spoke about the importance of this move, underlining that it allows advertisers to reach 700 million people, compared to 300 million active Twitter users, while also stressing that it targets the trend of increased user time spent on mobile in general and in mobile apps in particular. In a blog post last August, Twitter provided indications of the effectiveness of its platform's ads, citing results from a MediaScience study, according to which "consumers – both on and off Twitter users – spent about 123% more time with Twitter Audience Platform ads compared to traditional mobile interstitial ads".

There are many reasons to believe that the aforementioned strategies will have a significant positive impact on Twitter's revenue growth and that it may serve in restoring some of the belief in the company's capacity to fulfill the potential the market once saw in it.
However, a more fundamental challenge the company faces has to do with its core product and, consequently, its long-term appeal to users.

Twitter is nowhere near becoming as big a part of users' lives as Facebook (NASDAQ:FB) is. Indicative of this is the fact that it lost 1 million users due to the fact that after the roll-out of Apple's (NASDAQ:AAPL) iOS 8 smartphone operating system, "users either forgot their password or never bothered to re-download the Twitter app", while an integration bug in Apple's Safari mobile browser cost it approximately another 3 million users. If issues like these can make users can jump ship, you should be worried.

…

The implementation of a more intense type of monetization strategy may very well serve in further alienating users.

In conclusion, while Twitter is making moves that can have a notable positive impact on its revenue growth in the medium term, and indicators of bullish sentiment may pop up in that time span, the fundamental issue remains the product's lack of mass market appeal, and investors with an eye on long-term potential should keep that in mind.