Posted By RichC on April 3, 2016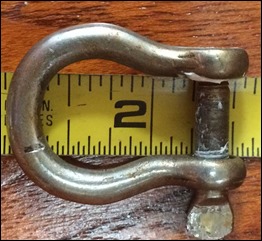 While out sailing with the family on Encore over Easter week, we suffered a halyard block failure — see photo in previous post. There wasn't a direct replacement in my spare parts bin (shame on me), but Drew and I zipped over to Marine Connection  and found an acceptable "used" halyard block. The replacement is a quality Harken "midrange" block, but it unfortunately was missing a 5mm shackle — the one in the photo on the left — so I added a little anti-seize to the old one and reused it. I'm archiving this post and will start shopping for a new heavier halyard block and larger shackle while putting the used one in my spare parts bin.
| | |
| --- | --- |
| | ♫ ♫ Toes ♫ ♫ Zac Brown Band in 2009 |
We enjoyed the sun, hit the beaches, walked the Fort Pierce waterfront, listened to a little live music and just relaxed — of course we also sampled the fresh fish in a couple new to me local restaurants — food is always a highlight!