Posted By RichC on September 23, 2016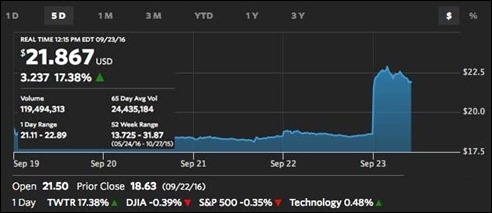 While Twitter shareholders seemed to like the rumor of Salesforce.com showing interest in $TWTR, those holding shares of $CRM are not quite as enthused. This has happened before so we'll see if there is any real substance … OR if others might be interested? Google???
Salesforce.com Inc. is considering a takeover of Twitter Inc., according to people familiar with the matter, as the social-media company's efforts to ignite growth sputter.

The exploration is in early stages, one of the people said, and might not lead to a deal. It's unclear who else might be circling Twitter, which had a market value of about $13 billion as of Thursday's close, down from its all-time high of $40.7 billion in December 2013, according to Thomson Reuters.