Posted By RichC on January 8, 2017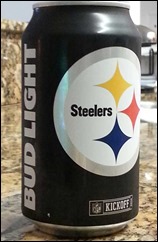 This WAS going to be a positive and upbeat post about enjoying Pandora's Thumbprint Radio feature … UNTIL a "friendly" text message came in from my Florida (soon to be Savannah, Georgia)  sailing friend Mark telling me he had a cold beer in the fridge waiting for me. How nice to have friends anxious for your visit, "I thought" …  it was only THEN the attached photo arrived in time for the NFL playoffs this weekend! Oh how cruel … his home team the Pittsburgh Steelers are in it and the Cincinnati Bengals are not this year. Mark's motives were deceptive and his Marine Corps "twisting the knife" instincts duly noted.



Back to more positive thoughts and my new favorite Pandora feature. I've enjoyed streaming radio nearly since it's launch on the Internet and smartphones (even before they were smart), and have a personalized list of stations that I try to keep edited to about 50. There are classical stations, Christian music and holiday stations, but few get the workout that highlight singers and songwriters from the 1970s do … and that is where their Thumbprint Radio comes it. It preprograms music from the artists I select the most and mixes just those stations. So far it has been flawless in picking a mix … although just recently I've noticed it seems to repeat the same mix (I think). If you enjoy streaming radio and tailored music picks for your mood or taste, give Thumbprint Radio a try. (below is the first song that pulls up on "my" Thumbprint Radio today.)
| | |
| --- | --- |
| |   Run-Around | Blues Traveler – 1994 |
Here's the NFL 2017 playoff picture and standing … and since I really don't have a team in the running for Superbowl LI, I sort of find myself rooting for our AFC North winner … the Pittsburgh Steelers (going to take my temperature in a moment because I must be sick) and will cheer for Green Bay in the NFC (although don't mind Russell Wilson and the Seattle Seahawks).