Posted By RichC on February 27, 2017

The Heinz Ketchup commercial from when I was a teen popped in to my head the other day … or at least the Carly Simon music part of it did. According the the Youtube clip (below), it aired in 1979 and I realized that not many born after that time would understand the "anticipation" of "waiting for ketchup" as squeezable plastic containers dominate the condiment container market nowadays.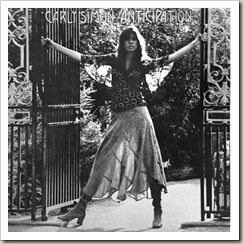 Anyway, Anticipation (video-live) was a first major hit for Carly Simon way back in 1971. She was one of the female music superstars of my era and continued to be throughout the years … now performing with her two grown children Sally and Ben. Of course it is hard to mention Carly Simon and her kids without also mentioning their dad … James Taylor. Thoughout the decade of the 1970s they were a powerful music couple with hits of their own as well as duets … and I enjoyed all of their music and still do … but  Carly Simon's Anticipation is definitely one of my favorites.
| | |
| --- | --- |
| | Anticipation | Carly Simon – 1971 |
—