Posted By RichC on April 10, 2017
While listening to background music this past weekend (working on taxes), it became an easy decision post something on music. Next … decide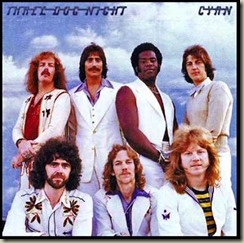 which group and song to include without repeating something mentioned before on My Desultory Blog?
How about Three Dog Night???
The rock band was not necessarily in my record (or cassette tape) collection "back in the day," likely because their music was slightly before I was listening,  but my college roommate Jerry Moody played their music all the time … so I listened.
One song, Shambala (written by Daniel Moore) never fails to get my toe tapping, so I'll include the Three Dog Night version as the Music Monday song (it was also recorded by country artist B.W. Stevenson). Shambala was the first song on "side 2" of their CYAN album, but rose to a #3 single on the Billboard Magazine Hot 100 back in 1973 — I really have never given any attention (so why now?) As a performing group, Three Dog Night was in it's heyday between 1969 and 1976 … with the original three lead singers reuniting the band in 1981 for a few years.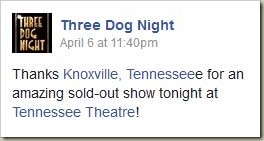 They continued perform in the 1990s and 2000s with occasional changes in faces. Of the original "Three Dogs" —lead singers — only Danny Hutton continues to tour .. but to sold out venues, proving their sound and music is still enjoyed today! (Cory Wells passed way in 2015 and Chuck Negron left in the mid-1980s in his continuing heroin addiction struggle).
| | |
| --- | --- |
| | Shambala | Three Dog Night – 1973 |
EDIT add from YouTube: