Posted By RichC on May 2, 2017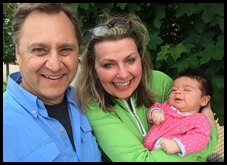 Brenda and I met Katelyn, Drew and Annalyn in Toledo this past weekend. Their reason to be in Toledo was to look at houses for their upcoming move back to Ohio from Minneapolis, MN … it is official now! Our reason for driving up from Cincinnati was to babysit our granddaughter on Sunday and take them back to the airport (Barb and Randy, Drew's parents, picked them up and babysat on Saturday). We could have stayed in one place to take care of Annalyn, but instead decided to have fun and explore.
The realtor picked up Katelyn and Drew about 8:45AM, so we "three" headed east of Toledo through Oregon to where I grew up on Lake Erie. Besides driving by Jerusalem Elementary School and our farm friends the Ames place, we headed to Howard Farms where our house once stood.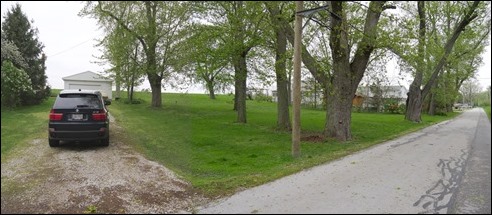 My brother mentioned the house had been torn down when he visiting in 2015 and we both wondered what might be planned for the 150 foot lakefront lot. It was cold and windy (and trying to rain), but we braved the wind with Annalyn to "try" and get a photo with her all covered up in Brenda's arms.
I really can't say I was impressed with the property … my memories are much fonder and everything seemed so much small than I remember? (the house was next to what is left of the garage – click for larger panoramic photos)

—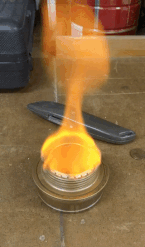 After enough wind and cold, were back into the car and checking on a few more places. I stopped at my neighbor's marina to see how the slips and dock spaces had been expanded. Although ALL of Meinke Marina is new from what was there when I was a kid 40+ years ago — in those days they were only in the commercial fishing business where Vernon (my age) and I worked at cleaning up and burying the dead fish among other chores. If we get up there again, maybe I'll stop to look up a few old friends?
Speaking of stopping, our next was at Maumee Bay State Park to have our "picnic" (actually ended up just a snack in the car), do a diaper change and feed Annalyn her bottle. My daughter asked me how I would be heating it … but of course I had a plan! I was going to tease that  I'd be heating it on the engine block, but instead I popped open my Trangia backpacking stove to heat up the bottle in a pot of water. It worked great.
We were finishing up the feeding when Katelyn checked on our meet up time and place. They were on their final house walk-thru and we were about 35 minutes away. Our timing could not have been better … and neither could have Annalyn — she was perfect. A final stop to eat at Panera, then off to the airport and a final "mom" feeding and ice cream cone for us. A short time to be with them, but a GREAT time with them.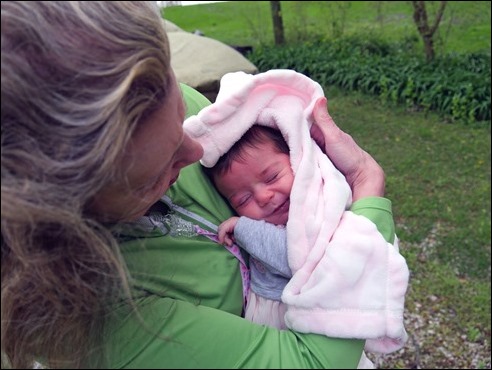 Annalyn is now 8 weeks old … and making faces!