Posted By RichC on July 3, 2017
When it comes to music, I've always been a James Taylor fan and have posted a few times about him. This past weekend I ran across a YouTube clip from The Late Show with Stephen Colbert from a year or so ago that had me laughing (video below). The skit was about James Taylor writing "Fire and Rain" … and that "he hadn't seen that many things." Funny stuff, but … it also had me remembering it on his original vinyl album "Sweet Baby James" or watching him live at Cincinnati's Riverfront Coliseum in 1980 with Kim Carnes (archiving "my" story after the below video).
Personal story:
At the end of the summer in 1980, I had sold my 1974 Capri and purchased a 1973 Cadillac Coupe de Ville that was hit by a train (drivable but needed a little body work – my thing at that time). It was a BIG and comfortable car with a giant 489cu in V-8 with a thirst for gasoline to match (probably why my next car was a 1977 Honda Civic!) … but I'm off track.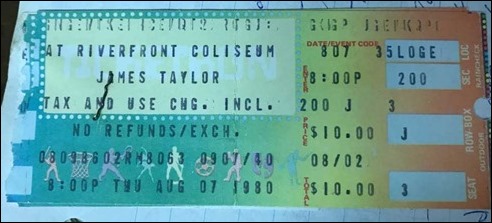 Anyway, a good Sidney friend, Mark Barhorst and I decided we wanted to go to the James Taylor concert in Cincinnati so we bought 4 tickets ($10 ea) and took our dates down to the Riverfront Coliseum (just 8 months after The Who concert disaster) for the 8PM concert. As I rolled into the 3 floor of the parking garage in downtown Cincinnati on a hot August summer night, we heard a loud BOOM from under the LONG hood of the car and watch all the antifreeze gush out. Hm, I knew it must be a radiator hose and didn't bother to even open the hood. Off to the concert … excellent by the way … and left for the car just as the encores were starting. At least the parking garage was not backed up and the streets of Cincinnati bare at midnight. I'm not sure why, but drove across the bridge to Covington, Kentucky and rolled off at the first block over the river into a parking lot of an all night parts store. What are the chances … just FYI, this is way before cellphones, etc. I walked in, picked up the correct under $10 hose and with a rag and a couple tools from the trunk changed the very hot hose and added water. Within 30 minutes we were back on the road and heading 2 hours back home to Sidney — I don't recall the feedback from our dates' parents, but never dated her again. I wonder why?