Posted By RichC on July 2, 2017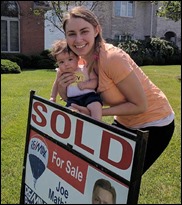 In keeping with yesterday's post about Katelyn, Drew and Annalyn moving back to Ohio from Minnesota, part of the plan and process was to try to find and close on a house so they could move straight from their Wayzata rented house to one of their own … no double move. The process wasn't as easy as it sounds, but in the end I think they will be happy in their own house in a nice Perrysburg neighborhood (Toledo, Ohio area). From all accounts, this is a desirable area for families and young professional … and the home prices for northwestern Ohio reflect the demand. Still, a very nice place to call home; Brenda and I will be looking forward to visiting often … with hopefully an equal number of return visits by them!
Of course a post from a grandfather would not be complete with out a "wake up from a nap" photo or something of my granddaughter Annalyn. I sure am looking forward to seeing her soon!
After closing on the house by signing the hefty pile of paper (hard to believe we still use paper?) and walking through the house (a first time at the house in person for Drew!!!) …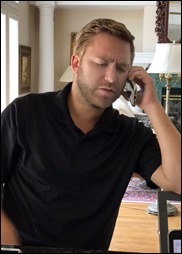 they headed to the quaint town of Perrysburg (map) to have a Perrysburger … one of many in the near future I assume?
Taylor was over to pick up his new RED iPhone 7 as he decided to switch over to the new Virgin Mobile USA "InnerCircle" plan too. For him it was probably even a better deal than me since he'll basically get the same unlimited text, talk and data service that he has been paying $89/mo for with Sprint. Since he was out of contract, he purchased a new iPhone and will save $89 x 12mo = $1068 … and if he is happy with the service can stay on for $50/mo after that. Really a no brainer.
Photo: Taylor after work Friday night activating the new phone with Virgin Mobile Customer Service before going out to Skyline Chili for dinner — online activation did not work for him either.