Posted By RichC on July 12, 2017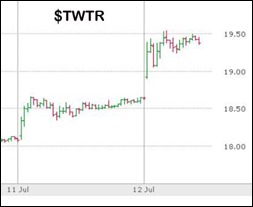 From a shareholder perspective we know investors seem to like Ned Segal – share price is up significantly after the announcement. From a Twitter USER perspective, we don't even know him – Segal isn't active on Twitter.
Twitter Inc (NYSE: TWTR) confirmed Tuesday the appointment of Ned Segal as the company's next chief financial officer. He will replace Twitter's Chief Operating Officer Anthony Noto who has been assuming the duties of both CFO and COO.

Segal brings more than 20 years of finance and capital market experience to the table along with expertise in the technology sector, JMP's Ronald Josey commented in a report. He most recently served as senior vice president of finance for the small business group at Intuit Inc. (NASDAQ: INTU), where he led financial and strategic planning for the $2.5 billion division.

Prior to his employment at Intuit, Segal spent 17 years at Goldman Sachs Group Inc (NYSE: GS), where he was a managing director and head of global software investment banking.

Ironically, Segal isn't active on Twitter's social media platform with a total 13 Tweets from 2015 through 2017.