Posted By RichC on August 8, 2017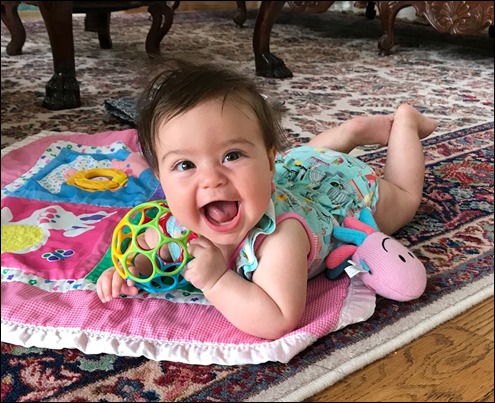 We had a great family weekend at our house "north of Cincinnati" (see below) this past weekend and enjoy spending time with our granddaughter Annalyn. She 5 months already, which is hard to believe, but has my heart – she is as cute as they come.
It was easier to stay at our house, but the visit was really a chance for Katelyn, Drew and Annalyn to visit Taylor in East Walnut Hills and poke around near the city of Cincinnati.
We enjoyed the time tinkering on a few projects (threshold cutting, Drew's Acura RDX, etc) spending time with the whole family for a few days and couple of evenings. The kids were able to stop at IKEA and the Restoration Hardware Outlet as they continue setting up their house in Perrysburg.  All in all it was a great weekend … part 2 "Down with Taylor"  tomorrow.
Finally the above "living north of Cincinnati" reference was a chance to post one of my Dad's early photos when driving over the Ohio River in Cincinnati – 1950s. While going through a few envelopes putting together papers (notes, cards, coloring, etc) that my mom kept to give to, I stumbled across a couple 1950ish dated photos when my dad drove through Cincinnati and thought I might archive it here.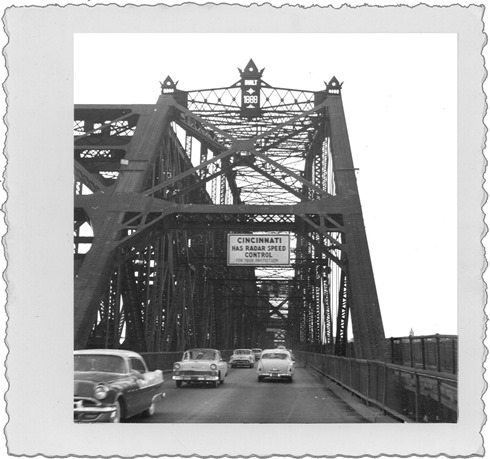 I also mentioned "north" of Cincinnati because getting over the river can be a challenge this summer. The Brent Spence Bridge is under construction (in phases) which carries traffic heading north and south on I-75 and I-71 and finding non-delayed ways to get around can be a challenge.