Posted By RichC on September 28, 2017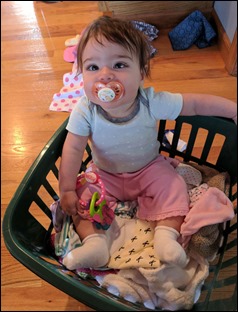 Weekend catch-up post after receiving a very cute Annalyn photo from Katelyn and Drew. Obviously they have her starting chores at an early age – 6 months!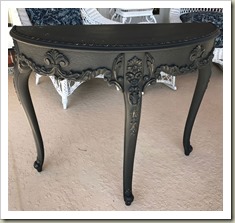 I finished sanding a bit more on the chalkpainting project that Brenda started with Katelyn's help a couple weekend ago – posts 1 and 2. The "replaced" top is now ready for final paint and wax … and finally an appropriate place to display a large chunk of petrified wood!
EDIT 9/28 13:00: I often post earlier in the week when I know I'll be busy or out of town, as was the case with this post. Brenda is babysitting today (Thursday) and sent me a photo while out for her morning walk with Annalyn so am adding it over lunch (below).