Posted By RichC on January 2, 2018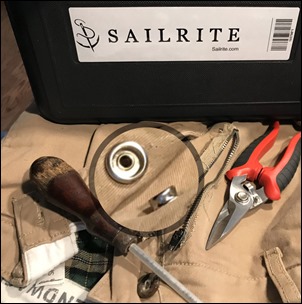 Ok … so this nautical fix has not been endorsed by my wife, in fact, she will not be seen with me from wearing these pants in public ever again … although like most women,  I'm not sure she is fond of cargo pants anyway?
My Eddie Bauer flannel lined winter cargo pants are a go to favorite when the temperatures are at or below zero, but the zipper fly broke the other day. They are only one-half season and are hard to justify throwing them out … nor can I will good conscience expect an exchange. Sewing in a new zipper is beyond my expertise and Brenda would say her time is worth more that fixing my pants – probably true?
Not to be dissuaded I started down the Velcro path and decided instead to "play" with my Sailrite  Snap Fastener Kit instead (always looking for an excuse to bring sailing into a fix). Unfortunately the shiny silver snap is hard to get beyond with a tucked in shirt … but pulling over a fleece or untucked shirts are pretty easy when dressing casual in the winter. I'm calling this fix a success even if sewing it a Velcro fly would have been a better choice.