Posted By RichC on January 24, 2018
As GE stock continues getting battered (although a 4.48% bounce back today), quite a few investors have been waiting for the bad news to end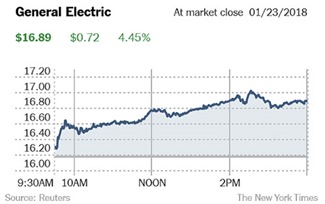 and new management direction to bring this huge ship back on course. (I've been buying, and selling) It is likely be too soon to expect things to change, but General Electric has some outstanding talent and a lot of excess waste/fat to start trimming. Their line up of products are to be admired, the economic conditions sound and with the right hand on the helm (John Flannery) should be able to run profitably again. Winning back shareholders and institutional investors may take some time, but writing them off is premature — just my gut call.
Today was a mixed day for investors, especially as the Trump administration announced tariffs on solar panels and washing machines from overseas. This could be a slippery slope, but understandable when trade has not been reciprocal. I'm hoping this is a one-off, warning shot … and will quickly be resolved by those country who continue to encourage and permit unfair trade practices.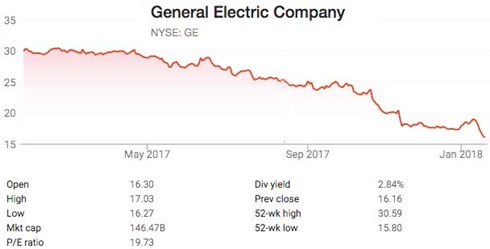 All eyes on General Electric's 4th quarter reporting before Wednesday's open.
Can it possibly get any worse for General Electric Co.? Investors will find out when the struggling industrial conglomerate reports fourth-quarter results before Wednesday's open.

The last quarterly report, was a big surprise for investors, as GE missed earnings expectations for the first time in 10 quarters, but the stock erased an early loss to end higher on the day of the report for the first time in eight quarters. Read more about how GE's profit miss and the stock's bounce was a shock.

However, the stock's strength proved very short lived, as it fell for the next nine sessions—the longest losing streak in eight years. The outlook for the shares got even uglier after new Chief Executive John Flannery unveiled the company's transformation plan in mid-November, with the stock taking a particular hit a shockingly large loss for its legacy insurance business was revealed.