Posted By RichC on February 1, 2018
It sure is nice to have friends like Mark and Dar to impose on when traveling … although I KNOW they would say I was invited and was not an imposition (the mark of true friends!)



They put me up at what I now refer to as the "Jones B&B" as they always feed me AND give me a place to sleep instead of driving non-stop to Florida. So nice. This past "stay" they tried out a new recipe out for breakfast … tell me this doesn't look great?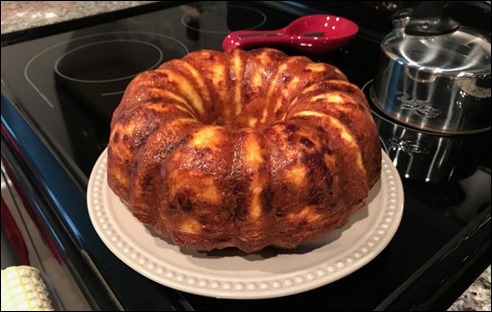 Mark and I enjoyed talking into the early morning hours about everything under the sun … including photos and plans from his latest dream of building hunting log cabin on a piece of acreage. He also ended up making copies of a couple recipes so Brenda and I can try making it at home – but I'm almost positive they will not turn out as perfect or taste as good!
Bundt Cake Breakfast (above)
1 cup diced Ham
2 c tater tots…still frozen
1 dozen whisked eggs
1 can (8) Pilsbury Grands biscuits..diced up (raw)
2 c. Cheese…your choice…I used Cheddar
1/4 c milk

All mixed together. Put in greased bundt pan. Bake on 400 degrees for 45 mins. When done flip onto platter and cut and serve

You can use any meat or any veggie you want!!!! The key is not to add too much bread and the tater tots add just the right amount of potatoes…they shred up and you would think they were hash browns without making it dense! I have made this SOOOOO many times and varied the ingredients almost every single time! but this morning these were the simple ingredients I used!!! So get creative!!!! you won't find this recipe anywhere because, as usual I MADE IT UP!