Posted By RichC on July 19, 2017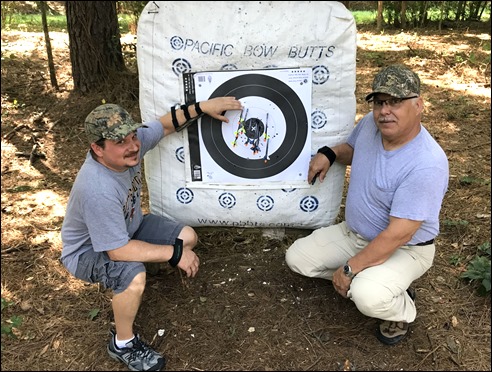 A bit of a catch-up and thank you post to a sailing friend and loyal blog reader Mark Jones for giving me an overnight rest stop outside of Savannah, Georgia last weekend on my drive home from Florida; your hospitality and friendship is very much appreciated. Actually I have been looking forward to seeing Dar and Mark's new house after lending a hand in loading up the moving truck in Florida a few months ago … and it did not disappoint. Their new ranch home in Guyton, GA (not really close to the town center) is about as perfect as can be for a couple in retirement. Everything on one floor and brand new … it should make for a lot of comfortable years before upgrades or maintenance (cough, cough … unlike our house!).
A big plus for them was moving closer to their son Ray who is now only 15-20 minutes away … making it ideal for son and dad (and mom!) to do things together.  I enjoyed an outing to the archery range with them on Saturday and found myself resisting getting interested in "yet another hobby!" For Mark and Ray it will hopefully lead to hunting season and getting a deer this autumn … and from the looks of their accuracy (photo above) I'll bet someone's freezer will have meat this winter!
Thanks again for the great time and welcoming me to your house. I really enjoyed watching the hummingbirds … even the one Dar named "Stupid." (he has yet to figure out how to feed from the holes in the top of the feeder!)