Posted By RichC on March 8, 2018
Encore lost her slip last year at Harbortown Marina when I haul for some TLC during hurricane season in 2017 and I was glad Daniel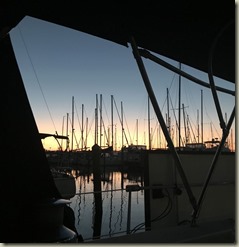 our dockmaster made room for us last month when we relaunched. It's great to have Encore is back in the water, but I miss the quieter dock we had previously. I've been hoping that as the snowbirds headed back north that we could move nearer to our previous location … so as long as we could maintain at least 5 foot of water (Encore's draft and questionable on B-dock).
Earlier in the week, I received an email from Daniel who thinks B-26 will be opening up in April and thought we might want to move there. So, I'm planning to grab it … even if it is further from the showers, bathroom and lounge … and hopefully can modify my contract to save a few dollars (Brenda will be happier too, since she was upset I gave up our previous dock).
I know you are reading, so what do you think, Mark?