Posted By RichC on April 15, 2018
Now that our granddaughter Annalyn is walking, our THREE (ugh!) hardwood staircases are serious safety hazards. We thought about the normal commercial gates, but Brenda mentioned she really liked the nautical sailing ones that I made for our kids when they were little tykes in Hudson, Ohio (a lame attempt at a reference to the company Little Tykes and the city where it is located – only Hudson residents would understand this DDJ – "dumb dad joke").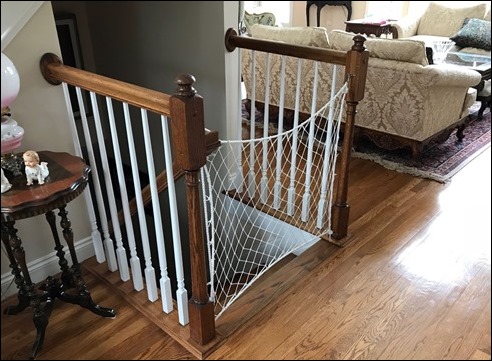 I did my best to search for the old original gates since I remember taking them down and moving and storing … but for the life of me I can't find them? Perhaps they are on the boat or Florida storage unit? Oh well, probably dirty and yellowed over the years.
So instead of giving taxes full high priority this past weekend as planned, I notice the new rope and hardware sitting in Annalyn's high chair and started on the first and easiest stairs to the basement. Hopefully Katelyn and Brenda will approve.