Posted By RichC on May 14, 2018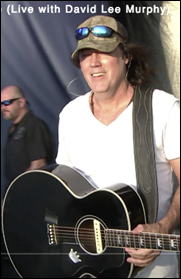 David Lee Murphy has finally recorded again with a little coaxing from Kenny Chesney after going dormant after his 2004 Tryin' to Get There album. The new music is just as good from what I can tell as I particularly enjoyed his "Everything's Gonna Be Alright" which was also set to a NewsOfStJohn.com video posted 8 months after Hurricane Irma.
| | |
| --- | --- |
| | Everything's Gonna Be Alright – 2018 |
"Down deep, I probably did want to make another record, but I'd just gotten so comfortable writing songs for other people. So when Kenny suggested it, it didn't take me long to say yes," he said.
Murphy had been approached before to record more of his own music, he said, but this time was different. "I just always thought I wouldn't do it again unless everything was just right. The fact that it was Kenny and Buddy Cannon made it just right. From start to finish. Kenny said, 'We should make this record,' and that was it," he said.
Part of Chesney's appeal for Murphy, beyond a friendship that dates back to the mid-90s when they both released their debut albums, is that he has the best ear for country songs. "I write songs five days a week, but when it comes to getting the right song that everybody will connect with, and finding the right song for me, that's what Kenny is so good at. Obviously."
From Murphy's brand new album No Zip Code. Murphy wrote it with Jimmy Yeary and Chris Stevens, and he sings it with Chesney. – link
The sound marries the "no shoes, beach music" country sound I enjoy with a little Caribbean flair reminiscent of the late Bob Marley (below).