Posted By RichC on July 13, 2018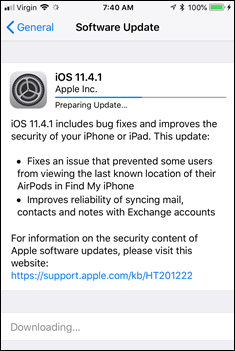 Apple has been updating their iOS iPhone and iPad mobile operating system regularly and they seem to take far longer than in the old days (a couple years ago – HAHA). This latest update will not be appreciated by law enforcement who often want to gain access to data on a suspects phone. This recent iOS 11.4.1 release is not the iOS 12 most are anxious about, but just a small update with a security feature called USB Restricted Mode.
Apple has added protections against the USB devices being used by law enforcement and private companies that connect over Lightning to crack an iPhone's passcode and evade Apple's usual encryption safeguards.
If you go to Settings and check under Face ID (or Touch ID) & Passcode, you'll see a new toggle for USB Accessories. By default, the switch is off. This means that once your iPhone or iPad has been locked for over an hour straight, iOS will no longer allow USB accessories to connect to the device — shutting out cracking tools like GrayKey as a result. If you've got accessories that you want to continue working after your iPhone has been sitting locked for awhile, you can toggle the option on to remove the hour limit.
Apple's wording is a bit confusing. You should leave the toggle disabled if you want your iPhone to be most secure.