Posted By RichC on October 30, 2018
October is indeed a "scary" month for investors who are still hoping the bull market is not over … and perhaps just slowing? Earning for the most part are still good, interest rates aren't "scary" high and the economy seems to be chugging along. Most who want work are finding jobs and employers are complaining that they can't find enough skilled or loyal employees willing to stick with them and show up when scheduled. 
Unfortunately even though most stocks bounced back today, the bad news from General Electric $GE didn't end. Today they fell short in there quarterly with declining profits and sales. The "once iconic" American conglomerate is looking at ever option to stop the bleeding in order to save the company. They have so much talent and potential but can't seem to get out of their own hole. The morning call saw them deliver the news investor did not want to hear, GE will slash their dividend to 1 cent. Punishment came swift as investors sold their shares; it closed down 8.78% to $10.18 per share.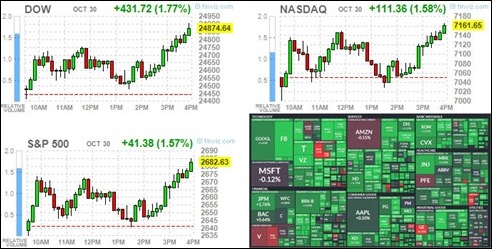 The Dow Jones Industrial Average rose 431.72 points, or 1.8%, to 24874.64. The S&P 500 added 1.6%, a day after teetering on the brink of correction territory. The index has tumbled 8.5% from its recent peak. The technology-heavy Nasdaq Composite climbed 1.6%.

All 11 sectors in the S&P 500 marched higher, led by gains in communications and energy shares. Those groups climbed 2.5% and 2.3%, respectively. The real-estate sector added 1.7%