Posted By RichC on January 21, 2019
While contemplating both a Music Monday and a Martin Luther King Jr. reflective post for this U.S. National Federal Holiday, I thought about Dr. King's 1963 I Have A Dream speech's reference to the African American spiritual "Free At Last" and wondered about the early recordings?  Although I've heard several different relatively modern gospel recordings, I haven't really listened to songs sung by those who were slaves.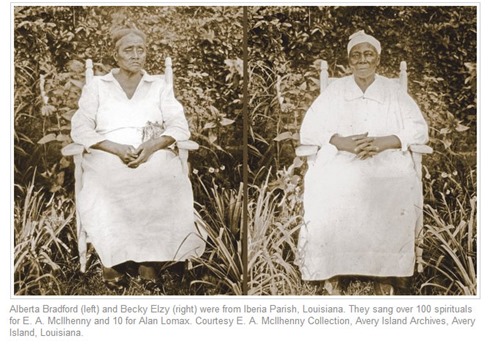 The Library of Congress has archived a few such recording from different sources and I'll include this one from the "hidden folklorists" Alberta Bradford and Becky Elzy from Iberia Parish, Louisiana in 1934; it makes for another "totally different" MusicMonday post. 
| | |
| --- | --- |
| | Alberta Bradford and Becky Elzy – Thank God Almighty (Free At Last) | 1934 |
Free at last, free at last
I thank God I'm free at last
Free at last, free at last
I thank God I'm free at last

Way down yonder in the graveyard walk
I thank God I'm free at last
Me and my Jesus going to meet and talk
I thank God I'm free at last

On my knees when the light pass'd by
I thank God I'm free at last
Tho't my soul would rise and fly
I thank God I'm free at last

Some of these mornings, bright and fair
I thank God I'm free at last
Goin' meet King Jesus in the air
I thank God I'm free at last