Posted By RichC on March 18, 2019
Here's an Eric Carmen song (Make Me Lose Control – 1988) for Music Monday with a personal connection based on where we lived in the 1980s.
Brenda and I were talking about my blog and the fact that I include music with the occasionally a memory that it triggers.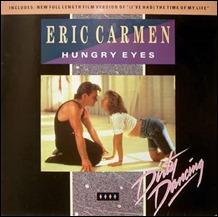 She wondered if I included Eric Carmen, a singer/songwriter (and original Raspberries lead) that was a customer at her pharmacy in Shaker Heights, Ohio when we lived in east side suburbs for Cleveland, Ohio (University Heights, Aurora and then Hudson)?
"Nope I did not" … but even if the music wasn't exactly my taste, it does make for a good excuse to include the above video and the below, Hungry Eyes from the 1987 movie Dirty Dancing. By the way, it was recorded in Beachwood Studios (Beachwood, OH).
| | |
| --- | --- |
| | Eric Carmen – Hungry Eyes | 1987 |