Posted By RichC on June 29, 2019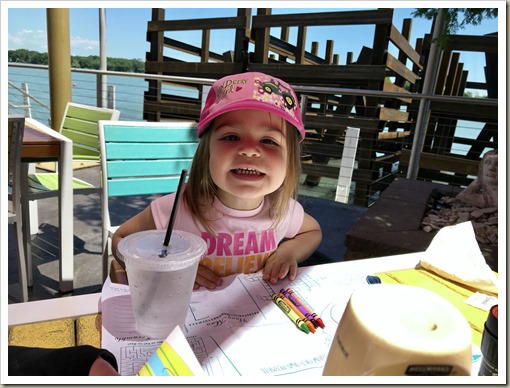 A week ago Brenda and I headed up to our "old stomping grounds" (idiom) to celebrate Taylor's 30th and my 60th birthday at Put In Bay, Ohio.  Katelyn planned a family gathering for us since her partner owns a house and a few rentals on the island and graciously let us stay in the place across from his waterfront house (beautiful … and yes I was envious).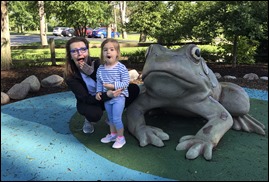 We stopped in Perrysburg to check on some remodeling at Katelyn and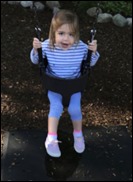 Drew's house (photo below) and then made a hospital stop Friday stop with Katelyn and Annalyn so that Dr. Katelyn could make her 45 min morning rounds east of Toledo (ProMedica Bay Park Hospital in Oregon, Ohio next to Katelyn's pediatric clinic). While Katelyn was rounding, Brenda and I took Annalyn to Pearson Park, a park I remember from my childhood. It was across Route 2 from the barber and the drive-in we would got to as a family – I clearly remember the Love Bug (my first love affair with VWs!). I think Annalyn enjoyed the "musical" playground as well!
By late morning we were enjoying the sunny Friday and heading towards Catawba to catch the Miller Ferry to Put In Bay, and early enough to miss the Friday afternoon weekend surge … besides it was Pyrate Weekend (including a couple of my  childhood 1967 memories — photos from DadC's slides when we had our Corvair!).
The afternoon gave the 4 of us time to explore the island by golf cart a bit. I enjoyed my first Lake Erie Yellow Perch fish sandwich in a long time and forgot just how delicious it was … as is Lake Erie Walleye (although some Walleye was shared with me). I grew up fishing and cleaning perch all year long when growing up on Lake Erie. Photo below of my grandfather (Dick Bluhm) and uncle (Bob Sevrence) at our house in 1967.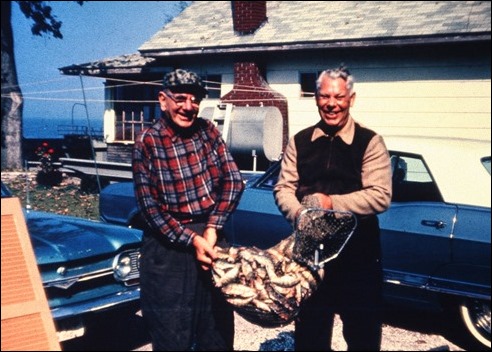 Ok, so I'm having a Sentimental Journey (see video music below) … but I'll get back to present day. 🙂
Drew, Taylor and Megan drove up and walked onto the ferry after work and we were all settled in for the night. Saturday was full as we squeezed several of the "go to" spots in, including Perry's Victory an International Peace Monument, Put In Bay lighthouse, north side fence with all the locks, the butterfly house, town shops, ice cream, a birthday dinner celebration and of course Annalyn's must have "play at the park" swings and slides.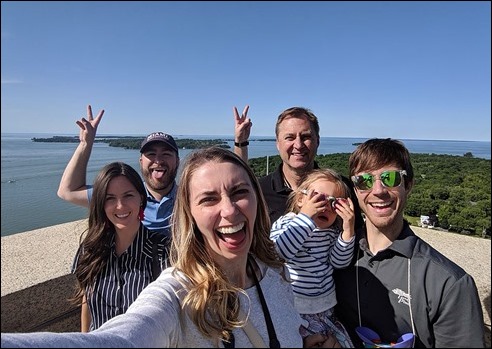 For me, I am so grateful to have children who enjoy getting together with us and spending their limited free time hanging out with their parents … and the great part about having a milestone birthday is that … "for some reason" … it isn't over yet – we still have a Cincinnati Reds – Cleveland Indians game to go to as a family (torn loyalties, but that means no matter the outcome, my team wins).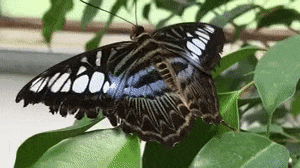 Since smartphones shoot video … here's a movie to archive on the blog!