Posted By RichC on July 9, 2019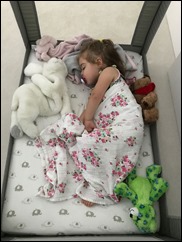 The holiday weekend at our house in Cincinnati was fun for all as I enjoyed my kids stretching out my birthday celebration with a Saturday Indians – Reds baseball game (posted on Saturday). We all had a great time together and enjoyed the hot weather, pool, having ice cream at The Cone and plenty of food … including delicious ribs, macaroni salad and Key Lime pie. Annalyn could probably just live on Mac-n-cheese (her favorite) and she continues to be our "center of attention." We wonder how this will change when there is a sister, brother or cousin to share the limelight with? Oh how I remember those days with Katelyn when Taylor came along.
That aside, she definitely has stolen Bompa's heart and I enjoy every minute with her. We played in the pool, spent time in the backyard collecting things, swinging and splashing in puddles. So much fun.
Oma's rules seem to disappear when giving her treats to eat (Megan's cupcakes with sprinkles were all over Annalyn's face) as she caters to her.
So much fun … more photos and video below.