Posted By RichC on September 4, 2019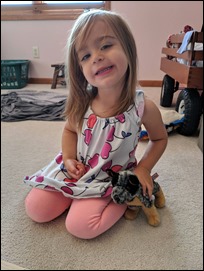 It was a long weekend and I have a few photos to archive so here's a final Labor Day 2019 update beside the early weekend post from yesterday.
First up is of course a photo of Annalyn having a daddy morning on Monday since Katelyn had hospital rounds. She is growing up so fast and as Drew mention, is playing with Tootsie (our family pet for 17 years that sadly she will never know).



Taylor and Megan stopped in a couple of times and sent photos from a sunflower field that stopped to take pictures of on their way home. It was beautiful stop for photos and the sunset.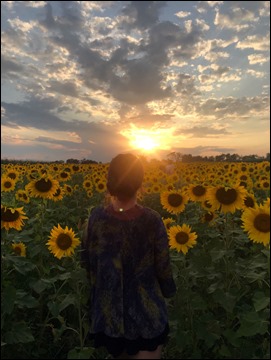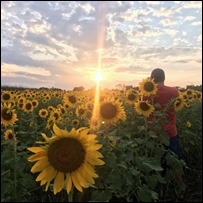 Since Brenda worked over the Monday holiday, I tackled a few more home maintenance chores … like finishing the caulking over the garage doors after exterminating the yellow jackets and foam filling the holes. The gap under the lintel has really opened up over the years and required a bit more work before repainting the steel brick support. I used up the rest of the caulking on other areas missed by the painters … and could have touched up more (if you want a job done right, you really need to do it yourself).
The final project for Labor Day was to wire brush the rust and loose paint off the rear gate and paint it John Deere green … probably not the exact HOA approved color, but it is an easy to get paint (besides it matches the touch up paint I need for our multi-use John Deere 330 lawn tractor and trailer).