Posted By RichC on July 29, 2020
I can't say that I'm surprised, but after my Fitbit Versa failed after 11 months (and was replaced under warranty "without" a new watchband), now after 13 months, the original watchband faiedl. Admittedly I'm not Mr. Gentle when wearing watches, but considering the Fitbit is designed as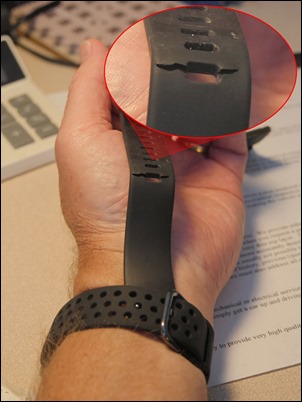 an athletic watch, I expected more.
Besides the watch failing in less than a year (my daughter's did too), I would have thought that the silicone rubber watchband would have been able to handle daily sweat, a few dips in a pool and some physical activity? It cracked not where I put the buckle clasp, but a couple of notches longer from that (wear it in 3rd hole). Also, I've never overtightened or put excessive stress on the band.
As for a replacement, I opted to order one for only $6.99 on Amazon and was attracted to the "multiple holes" design. Unfortunately where the strap meets the watch isn't perfectly fitted and leaves a sharp edge exposed, unlike the better fitting original band. It is also a bit short and can't imagine a guy will a large wrist being happy with this band … so buyer beware. Hopefully it will at least last as long at the watch?