Posted By RichC on August 27, 2020
As the Gulf of Mexico coast of Louisiana and Texas prepare for Hurricane Laura (as well as areas well inland), we got a taste of the kind of rain that might also be headed our way as this tropical weather works its way north. A strong thunderstorm swept through our area on Wednesday night this week and was the first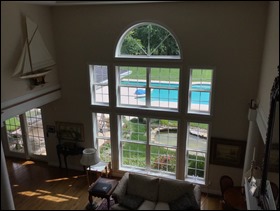 real wind and rain test for my shade sails. I really should have taken them down, but by the time I realized the storm was coming, the lightning was striking and sheets of rain were blasting pretty fierce. I did capture a bit of video from under the poolhouse garage porch which demonstrated that our new larger gutters and downspouts were no match for the heavy rain.
On a somewhat related note, this is the year we either have to re-caulk and repair OR replace our south facing Great Room windows that after 25 years of weather aren't keeping the pelting rain from leaking into the walls or dripping on the sills. I'm partial to replace with fixed windows, but with this size opening, it is not an inexpensive decision.
Here's a 30 second video clip of Wednesday nights thunderstorm and heavy rain.