Posted By RichC on August 12, 2020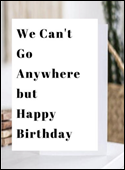 It is hard to believe, but it is that time of the summer already! Nope, not quite "back to school" time, but time to wish Brenda a Happy Birthday.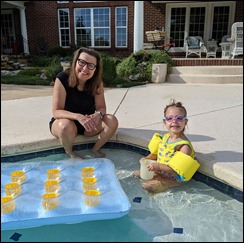 In the year of COVID19 as the card front to the left says, "we can't go anywhere, but Happy Birthday."
We'll celebrate low-key at home since it is mid-week anyway, but I'll use this birthday wish as an excuse to archive a couple more photos from last week and the weekend with the kids (we also celebrated with waffles and a homemade Bluebird house made by Annalyn and me on Saturday).
I "wasn't" planning to include the "goggle-face" photos of Annalyn, but since Katelyn couldn't stop laughing (or was it crying?) … I don't want that memory to go unrecorded. I'm sure Annalyn will someday hate these photos, but as I recall … ever parent has one or two in their photo collections. Also … I still can't believe how much Annalyn enjoys that old plastic swing from when Katelyn and Taylor were little kids.