Posted By RichC on September 7, 2020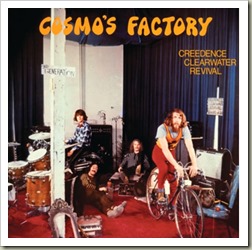 Everybody knows it and everybody has "[I]Heard It Through The Grapevine" (at least the 1968 single version by Marvin Gaye)… but not everybody has listened to the full 11 minutes of Creedence Clearwater Revival's interpretation from their 1970 album, Cosmo's Factory.
Of course neither were the the first to record the Motown Records song … that would be The Miracles in 1966 and then Gladys Knight & the Pips in 1967.
But for Music Monday, here's the full 11 minutes from CCR is in it's full glory.
 
I Heard It Through The
Grapevine – CCR (mp3)
While including an 11 minute song from CCR … why not include a YouTube version from Woodstock of "Born on the Bayou."
High-def color enhancement and improved lighting of Creedence Clearwater Revival full video Woodstock performance. Born on the Bayou, I Put a Spell On You (5:09), and Keep on Chooglin' (9:28) were live by Creedence Clearwater Revival at Woodstock Festival Day 2 starting at 12.30 AM, Sunday, August 17, 1969. San Francisco Bay Area-based CCR band members are John Fogerty – vocals, guitar, harmonica, Tom Fogerty – rhythm guitar, vocals, Doug "Cosmo" Clifford – drums and Stu Cook – bass.

The official Creedence video outtakes were not included on the Woodstock motion picture. Only audio recordings exist for their remaining Woodstock setlist and were omitted from the film's soundtrack.

The Creedence filmed song selections were taken from their first three albums. Born On The Bayou is from 1969 second album Bayou Country. "I Put a Spell on You" was written by Screamin' Jay Hawkins and is the opener on their self-titled debut album. Creedence Clearwater's last Woodstock number "Keep on Chooglin'" includes a 9-minute harmonica solo.