Posted By RichC on December 29, 2020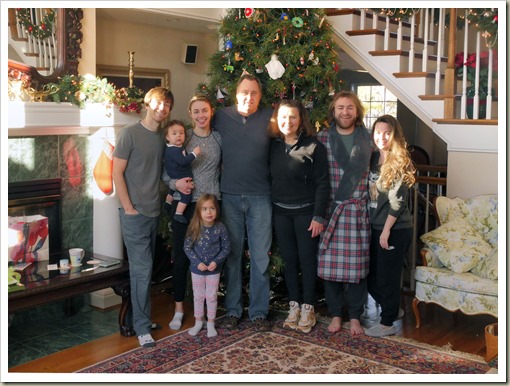 It was great that the sun was shining in the new windows the day after Christmas, but the hot-spots did make for a challenging family photo in front of the tree (we ended up too busy and forgot to take on on Christmas day with all the presents). Nevertheless, we still wanted to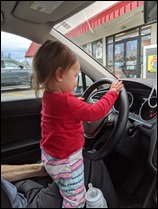 take one on self-timer with the Lumix GX8 the day after even though none of us were really dressed for a family photo.
Katelyn, Drew, Annalyn and Ellerie were able to drive down (or was Elerie driving?) on Wednesday, so that gave us a little time with just them. Brenda made the traditional Mom Howard's Sloppy Joe's "arrival" meal and besides playing with the girls (Annalyn out in the cold on the icy slide and swingset), were able to catch up on Katelyn and Drew's thoughts on building a house. Brenda and I remarked to each other about just how much the two of us have enjoyed planning and building over the years. Fun for us too as we pulled out our plans for them to look at and talk about – so exciting. It has been one of those years with Coronavirus to stay at home and appreciate each other and contemplate home-improvements or the next step.
This is also one of those occasions where I have more photos than words, so am clumping a few more memories photos in this post than ususual. 😉
The challenging year with COVID19 aside, we have been very blessed as a family to have our health, paychecks and a wonderful family Christmas together. Ellerie, now 10 months, was added to our family in February and is growing as breakneck speeds … at least that's the way it seems for me. She is crawling, standing, CLIMBING … and can pretty much get into anything she puts her mind to … and she is always searching for the next "bright shiny object." When I made the highchair for Annalyn a few years back, I made a tray that we rarely use. For days, Brenda and I search high and low for the tray so we could use it in the dining room … it never appeared. So last minute I "Jury Rigged" (or Jerry Rigged?) a new fitted tray so we could eat all together … and it actually worked well!
On Christmas Eve Day we ventured out to Cabelas for a family photo and chance for the girls to talk with Santa – behind plexiglass – but time being what they are, we masked up and obeyed the rules. It was good to hear that Drew will be getting the Moderna vaccine this week or next and Katelyn not too far down the list. It makes sense since Drew works in a hospital and so many of his patients are older (Hematology/Oncology).
We slowly opened presents this year as both Annalyn and Ellerie were patient and seemed to enjoy watching even the adults open their presents. Both assisted us in the opening … in their own way.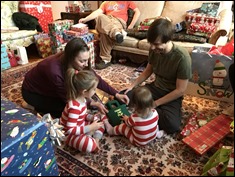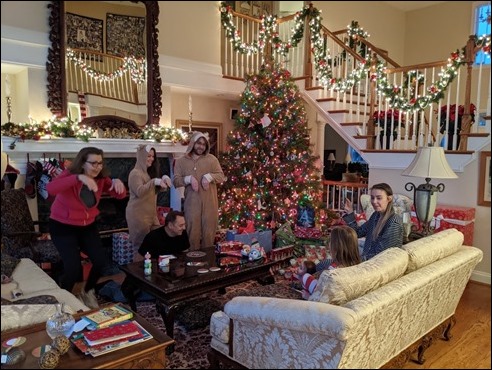 Taylor brought and made a Christmas breakfast that was delicious. I'm not an avocado eater, but shockingly really enjoyed the avocado toast with some eggs on top (bacon and sausage too). I think he was even pleased with his own handiwork and presentation too? Perhaps he should have been a chef? (although this year I'm glad he is a "Planner" and has some seniority at Clermont County!) 
Megan, Taylor's girlfriend, was a bit under the weather but held up like a trooper for the days we were all together. I could tell she would have felt better resting in her own bed, but was thankful she was able to be with the family too. They did a Facetime call to open presents together with her parents since they are a bit more "high risk" and not gathering together this year. It was obviously different, but glad they could do it.
Since I had the camera handy, I tried to capture a couple of large coyotes making their rounds on Christmas Day. These two are so large, that the male coyote actually leaped over the fence (I've only seen them crawl between the slates before .. but suspect he is too large). As for nice gift from the family, we now have a Convection Toaster Oven for the Kitchen. I moved the 4-slicer toaster and tried it out by warming up some pizza. Taylor got me a super nice ProTech Toolkit to take apart "tech" gadgets and Katelyn and Drew gave me a nice book on Christian history and the Truth For Life American Gospel 2-film DVD: Christ Alone and Christ Crucified. Very much looking forward to them.
And of course a few leftover photos that I couldn't leave out and that needed to be archived on my increasingly personal blog! (thanks for the extra photos Katelyn and Drew!)