Posted By RichC on December 1, 2020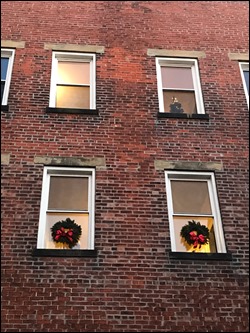 Last weekend must have been the time to start getting into the Christmas spirit? I was busy getting the wreaths and window candles up (and last of the leaves raked and hauled), Katelyn, Drew, Annalyn and Ellerie were on their Christmas tree outing adventure and Taylor and Megan were adding some decorations to Taylor's apartment in East Walnut Hills (our wreath photo above left – Taylor's apartment windows photo above right).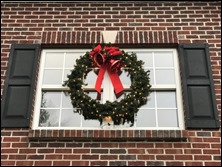 For my part I put the large wreath up three times … the first two were fighting to get the lights working and the third after tearing all the old lights off and putting on 200 new miniature lights … no not LED yet.
Brenda and I also enjoyed Taylor and Megan bringing over some Thanksgiving pie on Friday … that they also enjoyed while decorating their tree over the weekend.
I also thought the photos from Drew and Annalyn were great too … so I'm archiving these from their Friday trip to the Toledo Art Museum (Yayoi Kusama, Fireflies on the Water exhibit).
Since our neighbors were out of town, I also took the opportunity to burn off some soot from the Pool-Garage woodstove … and enjoy the warmth of a wood fire (unfortunately I don't burn it much since the smoke blows from west to east and bothers the neighbors – what a pain).