Posted By RichC on March 11, 2021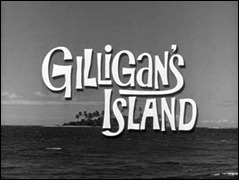 My generation grew up with a handful of odd, yet popular with kids, television shows, none more endearing that Gilligan's Island … which shockingly is still loved by almost everyone in reruns still today. After mentioning the passing of Dawn Wells, who play castaway Mary Ann, I realized that only Tina Louise (Ginger) is still with us in 2021. It definitely makes me feel old.
After only three seasons (99 shows which seems short by today's standards) ended in the 1967, after starting in black and white in 1964.  The cast, Bob Denver, Alan Hale Jr., Jim Bachus, Natalie Schafer, Russell Johnson and Dawn Wells along with the shows writer and producer Sherwood Schwartz, were able to reunite fora TV sequel in 1978 and some of them again in 1979 and 1981 … all without Tina Louise who "had disputes with the producers." I was never a fan of the reunion shows … BUT did enjoy seeing the cast all together one last time with Ross Shafer who was hosting The Late Show in 1988. So for Throwback Thursday #TBT here's it is.