Posted By RichC on July 11, 2021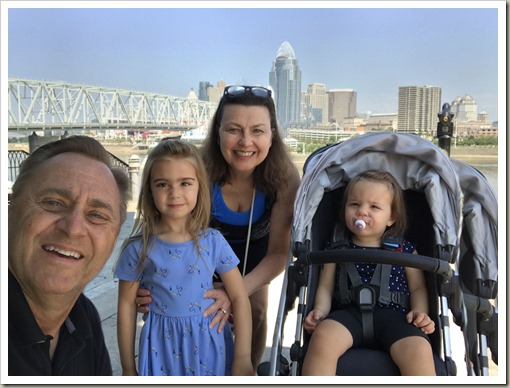 Brenda and I had a great week with Annalyn and Ellerie after Katelyn and Drew headed back home after the Fourth of July family weekend. It was not without challenges as our two little girls do miss their mom and dad … but they (we) survived.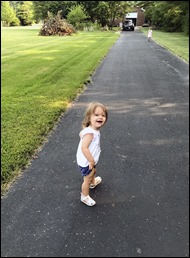 Thankfully we smartly took the week off of work and so with a united front and teamwork, we were able to keep them busy and distract them from homesickness (what was Brenda thinking when she went to a doctors appointment on Thursday though!).



The homesickness was really "missing mommy" as both girls do "love and miss their mommy" … as we were reminded several times by Annalyn.
Brenda and I purposely had to hide the "missing you" notes left by Katelyn and had to deter both Katelyn and Drew from phone or Facetime calls – I knew their voices were just too much for our granddaughters to deal with in the short term. These comments aside, the week was far more positive than my recent memory might make it sound.
We were busy with something everyday and had developed good routines with plenty of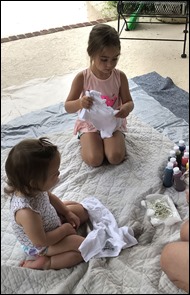 exercise during the day … like hiking, walking, swinging, sliding and swimming; all of these outdoor activties tired them out so sleep was pretty good. The weather was warm (hot, actually) and very nice so we could keep busy outside much of the time. Brenda and I both had different projects with the girls. 1) Ant Farm, 2) Plastic bolts, nuts and building parts, 3) a photo album and 4) Tie Dye shirts. We played games, read books from the "Katelyn and Taylor collection" after dinner and Annalyn scored 100% on her Brain Quest cards. Besides projects, we worked on learning about trees, leaves and bugs, went to the Newport Aquarium in Kentucky and tailgated with our McDonalds Happy Meals. In other words, the week was not dull! (longer video below)


EDIT-add: After the Oostra family returned home, Drew started assembling a new playhouse project for the girls … my guess is that Annalyn's new-found building skill was a big help to daddy! Looks great … love the nuts and bolts helicopter too!