Posted By RichC on April 11, 2022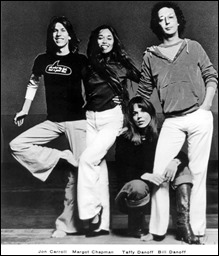 This week almost didn't have a Music Monday song, but after hearing "Afternoon Delight" over the weekend, I thought that since this was the only song I could remember from the group called Starland Vocal Band, that it would be worth adding?
"Lo and behold," I'm not alone in remembering it, as my wife started singing the lyrics from memory. HA! Odd though, this is the singular hit from the band founded by the couple Bill Danoff and Taffy Nivert. Both of them were songwriters and wrote music recorded by John Denver … such as "Take Me Home, Country Roads." The band members also included Jon Carroll and Margot Chapman who continued to perform together until the band broke up in 1981. I was surprised to read that they also had a six-week CBS television variety show in the summer of 1977 after their #1 hit … and that they then all had solo careers; they even had a 1998 reunion where they all sang with their children. It was interesting to watch their recording session on YouTube (below).

| | |
| --- | --- |
| | The Starland Vocal Band – "Afternoon Delight" | 1976 |