Posted By RichC on August 13, 2006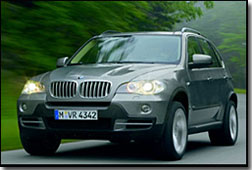 A friend of mine sent me an article in Wired Magazine's blog section on a mild hybrids, but the link that caught my eye was the BMW 2007 X5 preview article in Edmonds. I suppose I'm just dreaming that someday such vehicle with a diesel will be in the US? From what I've heard, RL, GL and M-class Mercedes will be here next year so it would sure be nice to have a diesel SUV entry from BMW too. The new 2007 X5 is a BMW at heart, and is said to handle "with all the precision of the critically acclaimed first-generation X5" … even fitted with run-flat tires. According the the Edmonds article, a BMW executive suggests that "It's not the most comfortable in the class, but we're confident the handling is as good as, or better than, the outgoing model." Those who have driven a BMW "know" that is one of the reasons one purchases one is the legendary handling. They are without a doubt the finest driving car I have ever driven. In my opinion, they exihibit the perfect balance of comfort and handling.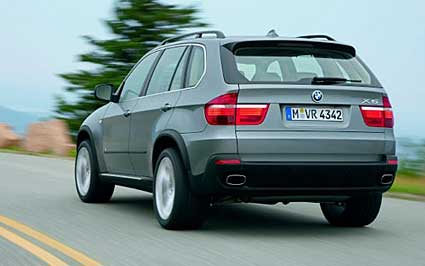 The current diesel option is a 231 hp in common-rail diesel and should provide decent fuel efficiency for the upsized X5. Speaking of upsized, the new 2007 X5 is longer and 7.5 inches longer and 2.5 inches wider than the previous X5. Frankly I think it looks better in the photos although styling has changed little. To keep weight down, BMW said the uses more lightweight materials including aluminum in the suspension. One of the key features that will improve the already excellent sales in the US is the addition of a 3rd row seat to keep up with the Audi Q7 and Volvo XC90. Unfortunately like all SUVs with a 3rd row, one questions the comfort and how to actually pack a bag? Actually luggage capacity goes from 21.9 cubic feet to 7.1 cubic feet.



Over all, the new BMW X5 sounds great and I'll really get excited if the diesel option comes to the US.